There are lots of good Croatian wines in all price ranges. Be adventurous –  when you are in restaurants and villages, try the local wines.  Assuming you are new to Croatian wines, we recommend the following when buying in local stores:
Be guided by prices, generally speaking wines are value priced.
At the wineries ask about the best year – wines can cary widely year to year, even the whites and roses.
If you are having a special event, order well in advance.  Croatia is a small country and wine distribution is often limited. So most stores (even large ones) do not carry a big stock.  And the good wines run out long before the tourist season ends.  Specialty wine stores will order directly from the winery for you.
When selecting wines in a store, check the temperature and storage.  Sometimes the transport is not great, the bottles could have been left sitting in the sun before they were shelved or they could have been on the shelf too long.  You might even ask the store owner how long a good bottle of wine has been on the shelf before you buy it.
Meet the Winemakers
Meet the leaders of the Croatian Wine Renaissance.  Building the future of Croatian wines from garage wineries, family wineries and resurrected traditional wineries, these master vintners are creating award winning wines and taking on the international wine industry head on.
Entrepreneurial Croatian winemakers are producing wonderful wines from a wide variety of indigenous varietals – reds from age old Plavac Mali & Teran grapes, refreshing whites, unique rose wines and even controversial orange wines.
From southernmost Korcula, along the coastal islands & mainland regions to Istria and inland to continental Croatia, winemakers across Croatia are dedicated to excellent wines and Croatia's entrance onto the world wine markets.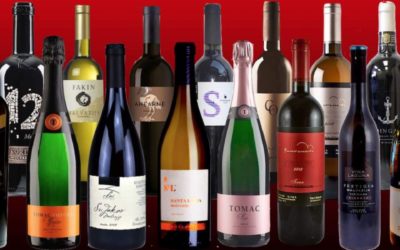 Reading the Label
Croatian wine labels can be confusing, not only because they are in Croatian ;-).    The main things to look for are the quality rating, the characteristic of the wine, the varietal and the producer of the wine (sometimes hard to see on the label as it can be obscured by the region).
Three quality ratings appear on Croatian wine labels:
Stolno (ordinary table wine)
Kvalitetno (quality wine)
Vrhunsko (premium quality)
These designations are roughly equivalent to the Italian ratings, IGT, DOC, and DOCG.  The ratings are helpful when in the store, but I have found no good explanation of the details of the rating and we have found some great international award winning wines, which are rated Stolno.
Characteristics
Suho – Dry
Polusuho – Semi-dry
Slatko – Sweet
Bijelo – White
Crno – Red (literally Black)
Rosa – Rose
Vinogorje – Vineyard/grape-growing region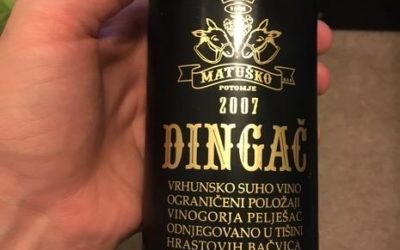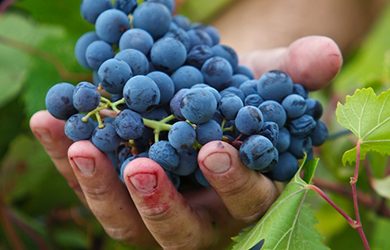 Croatian Varietals
Primary White Varietals
Grapes Debit
Grasevina
Malvazija
Marastinat
Muškat
Pinot Sivi (Pinot Gris)
Pinot Bijelo (Pinot Blanc)
Posip
Bogdanusa
Beware the Chardonnays, the cheaper ones bear little resemblance to expectations, the better ones can be fabulous, but very different if you are used to buttery California wines.
Primary Red Varietals
Plavac Mali (relative of Zinfandel)
Teran
Dingac
Crljenak
Babic
Refosk
Some of our favorites
Whites
Bire Grk
Stine Posip
Krauthaker Grasevina
Kozlovic Malvazija
Ahearne Wild Skins
Roses
Senjkovic
Korte Katarina
St. Hills
Kozlovic
Reds
Milos Stagnum
Matusko Dingac Reserve
Roxanich Teran
Dubokovic Medvjedica
Senjkovic Dita
Ahearne Plavac Mali
Sparkling
Tomac
Meneghetti
Korta Katarina
Dessert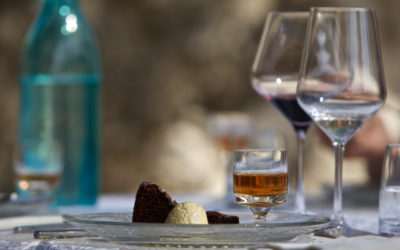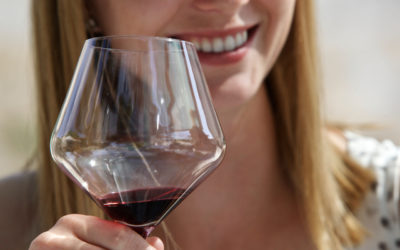 Go To wines for under €20
Dalmatian Islands 
"Donkey Wine" form Hvar or Plejesac regions | Plavac Mali wine – we call it Donkey wine because it has a donkey on the label. There are actually a couple of brands, be guided by the price – consistent value, drinkable, decent wine
Any of the Senjkovic red wines from Brac island | all are consistently good and price is related to value.
Dubokovic on Hvar island |  the 2718, Laganini and Prije 2009 are all good value. The Medvid & Medvjedica are pricier and worth the extra.
Stina (Jako Vina) on Brac | Posip Majstor (a little more than the ordinary Posip), Plavac Mali Majstor
Tomic on Hvar | Plavac
Ahearne wines from Hvar | Wild Skins & Plavac Mali – also a nice Rose
Cara on Korcula island | Posip
Bire on Korcula island | Grk wine
Peljesac Peninsula
Milos Family  | Stagnum & Plavac Mali
Rizman Winery | try the Posip (white) and Tribidrag
St Hills  | Posip
Istria & Slovenia
Kozlovic in Istria | Malvasija
Meneghetti in Istria| | Red and White are consistent and very drinkable
Matosevic in Istria | Teran & Grimlada Cuvee
Boskinac  on Pag island | the Cuvee
Simcic Wines (Slovenia) | variety of very drinkable reds and whites – try several
Continental
Krauthaker  | Grasevina – they have a variety – price & quality are well aligned
Tomac | Sparkling Wines – all are very drinkable and our favorite Croatian sparkling
Bolfan | Pinot Gris – good value, award winning wine