World icon, international hot spot, historical center of the Balkans
In the far south of Croatia, the Republic of Dubrovnik has been a vital commercial center for centuries, shuttling goods between Byzantium and the east and Venice and the west. Reaching its peak in the 15th and 16th centuries, foreign merchants travelled freely in and out of Dubrovnik and the city had a large fleet of merchant ships that travelled the world over, as far as India and America. And so the merchants brought stories, ideas and goods home to Dubrovnik – further influencing the amalgam of culture, which spread across Dalmatia.
Today the city still reflects its past greatness and wealth, and the influences of east and west – the medieval architecture, the cobbled streets, the fully preserved fortress and city walls, even the newer parts, sloping elegantly to the sea, are in keeping with the ambience of the ancient city.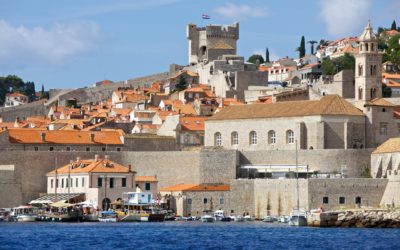 Graceful testament to the culture & history of the Balkans
Now this home to Game of Thrones and ancient city host cultural events, theatre, music and open air cafes and restaurants. On summer evenings the sound of classical music and jazz waft over the walls and infuse the town with the magical feeling that you have gone back in time to the days of the Venetian empire.
In summer the city sparkles, from its broad ancient promenade to the original narrow streets.
World class wines & emerging cuisine
Dubrovnik lives up to its reputation as an international hot spot and lively cultural center.
The Peljesac Peninsula (near Dubrovnik) is the Napa Valley of Croatia. The wines are great and the experience is like going back in time 50 or 60 years with family wineries and tasting cellars scattered throughout the valley and along the coastline. Peljesac is a breathtaking 90 minute drive or short motor boat trip from Dubrovnik – well worth a day trip.
Along the way, a visit to historical Ston and Mali Stone (founded in the early 14th century) is well worth a stop.   Part of the Republic of Dubrovnik, the surrounding medieval walls, fortified by over 30 towers, are well preserved and impressive.
Ston is well known for it's oyster farms in Ston Channel, for its yummy restaurants and for it's salt works, which have produced sea salt for centuries. Try the local mussles too. The annual salt harvest, still done by hand since the middle ages, takes place in July and August.  Be sure to stop at Milos small family winery, who are making some the best wine in Croatia.