Croatia has essentially 4 primary wine growing regions
Continental | Slavonia/Zagorje/ Zagreb area
Istria | Istrian peninsula between Rijeka, Italy and Slovenia and northen to central coastal region
Dalmatia | Central to south coast and islands
South Dalmatia | including the Peljesac Peninsula, southern islands and Dubrovnik area
About 2/3 of Croatian varietals are white (mostly from the north and continental regions). The remaining 1/3 reds, are mostly from the coastal regions.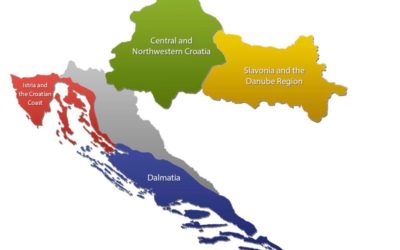 Fun Facts
Published statistics vary, but based on our research and conversations with vintners and the ministry of agriculture, here are some fun facts to help put the Croatian wine industry into perspective:
| | |
| --- | --- |
| Registered Croatian wine producers: | 17,000 |
| Vineyard surface area: | 26,000 hectares |
| Wineries producing controlled wines: | 800 |
| Wines of controlled origin: | 2,500 |
| Total production of controlled wine: | 61 million liters |
| Total number of cultivated vine varietals: | 200 |
| Total number of indigenous vine varietals: | 60+ |
Primary Indigenous Wines
PLESIVICA & SLAVONIA, in the northern continental Croatia, is home to over 30 wineries. The primary indigenous wine is Grasevina. The region also produces Chardonnay, Sauvignon Blanc, Pinot Blanc and Riesling. For reds there's some Pinot Noir and a local grape, Portugiser (the Croatian equivalent of Beaujolais Nouveau). The northern wine regions run roughly along the Drava and Sava rivers as they flow eastward into the Danube.
ISTRIA and the north coast, is famous for its fruity, dry white wines from a wide range of grape varieties, but mostly Malvazija, as well as bold, mineral reds including Teran. The coastal wine region runs from Istria in the north to the southern Dalmatia islands.
". . . the most well know varietal is the Istrian Malvasia, with a refined aroma and fresh taste that best accompanies seafood dishes. The red wines Teran and Refosk are old and indigenous Istrian wines. Their deep ruby colour, lively fruity scent and pronounced aroma are perfect with meat dishes."
DALMATIA, along the central and southern coast, islands and hillsides, has a wide range of microclimates. A wide range of indigenous grape varietals are grown here, the best known of which is Plavac Mali. The Peljesac Peninsula (near Dubrovnik) is the Napa Valley of Croatia. The wines (mostly Plavac Mali) are great and the experience is like going back in time 50 or 60 years with family wineries and tasting cellars scattered throughout the valley and along the coastline. Peljesac is a breathtaking 3 hour drive from Split, and a 1 1/2 hour drive from Dubrovnik – well worth a day trip.
THE ISLANDS Brac, Hvar and VIS produce some great wines. Korcula, the furthest south, has a wine tradition dating back to Greek times. Brac Island is just beginning to resurrect its wine "industry" after a blight in the early 20th century wiped out the island vineyards, prompting a mass exodus from the island of men and young people to destinations all over the world.