Croatians love to celebrate their special occasions and ancient traditions. These select events and festivals are deep experiences, which we invite you to share with local residents.
From the music festival in Pula to Advent in Zagreb and folk dancing in Dubrovnik, small local events are celebrated throughout the year . . .
Vis Sailing Regatta | Split to Vis to Split
End of October
Since 1934 the Vis Regatta has been one of the most popular regattas in the region. It is always an exuberant celebration to end the Croatian sailing season for local skippers & crews. The latest regatta attracted skippers and crews from 12 countries on more than 150 sailing yachts. The regatta is divided in 2 stages; Split to Vis, and Vis to Split.
Olive Picking Championship | Brac Island
End of October
The Olive Picking Championship takes part at the end of October in Postira on Brac Island. The contest is in teams of four (two men and two women) – you can bring your own team or join another team on arrival.
People come from around the world to participate, but even so it is still a very small, local event. It is a great chance to pick this gentle fruit and learn all about growing olives and making olive oil with plenty of tasting, feasts and wine. Â Olive harvest dovetails the grape harvest so there is a spirit of work and play all over the island.
Grape Harvest & Wine Festivals
September to November
Grape harvest and wine festivals are celebrated across Slovenia, Continental Croatia, Istria, Dalmatia and the islands (Hvar, Brac, Korcula) during September with wine exhibitions and tastings culminating in Vinocom festival in Zagreb in November. Vintners from across Croatia gather to celebrate the harvest and show off their wines with plenty of tastings – a great way to taste the best wines of Croatia and meet the wine makers.
Truffle Festivals in Istria
Late September & October
Truffle Days (held in Buzet, Motovun, and Livade) celebrate the famous Istria truffles and cuisine. Truffle season begins in late September and goes on throughout most of autumn. There are many festivities during this period:
Zigante Truffle Days in Livade
Subotina with a giant truffle omelet in Buzet
Truffle fair in Buzet, where you can taste and buy truffles and truffle products
Teran and Truffle (TeTa) Festival in Motovun with tastings and pairings of Teran wine and truffles
Days of Momjan Muscat and Truffles in Momjan
Advent & Christmas Markets | Zagreb
December
All of Zagreb dresses up for advent with lighthearted twinkle lights, seasonal displays,  holiday performances, traditional markets in the squares and all trimmings in the streets and churches. It is festive and pretty day and night with street food, hot mead, local arts & crafts and splendid holiday music and dance performances.
Oyster Festival | Ston
March
Mali Ston, located on the Peljesac peninsula, the Napa Valley of Croatia, is famous for its world-class oysters, medieval stone fortress and surrounding walls. The whole town turns out for a two-day festival of oyster & mussel tastings, local wine tastings, folklore performances and Dalmatian music. It is a great way to celebrate the beginning of spring.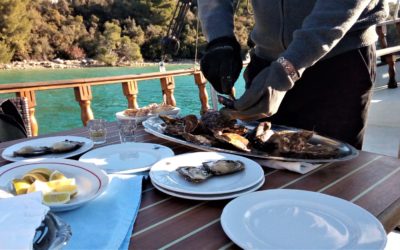 100 Miles of Istria Run | Istria
September
"100 Miles of Istria" is part of the prestigious Ultra Trail World Tour. More than two thousand contestants participate, running through medieval stone towns, mystic forests, red soil & wine valleys with spectacular views overlooking the Adriatic Sea.
There are 4 long and short courses – the races start in three different towns:
Labin (100 miles)
Lovran (105 kilometers)
Buzet (65 kilometers)
All races finish in seaside Umag, 30 minutes from the Slovenian border with Slovenia.
Alkar Knights Tournament | Sinj
15 August
In 1715, the town of Sinj was under attack by a 10,000 strong Ottoman Army. Wanting to occupy Sinj, the Ottomans had reached the edge of town. The battle for Sinj was brutal, with just 1,500 defenders the local priests prayed for the town to be saved. Local legend claims that the town was granted a miracle when the people of Sinj saw the Madonna walking on the fortress walls, appearing after hearing the town's prayers and forcing the Ottomans to withdraw.
The Alkar itself is an equestrian competition in which horsemen riding at full gallop through the street aim their lances at a hanging metal ring (alka), and are awarded points according to which sector of the ring they are able to pierce. In 2010, the Alka was inscribed in the UNESCO Intangible Cultural Heritage Lists.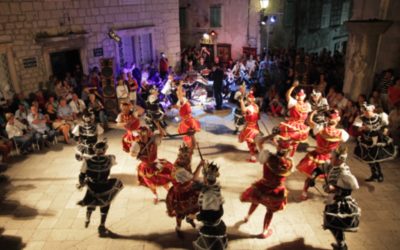 Moreska Sword Dancing Festival | Korcula Island
June to October
Korcula Town is well known for MORESKA, a traditional sword dance and drama that was common through the Mediterranean in 12th and 13th century, reaching Korcula in 16th century from Italy and Dubrovnik.
The dance originated in Spain is depicts the conflict between Moors and Christians. In Dalmatia its popularity was almost certainly linked with the struggles against Ottoman Empire, above all with the victory over a Battle of Lepanto, the first major Ottoman defeat by the Christian powers, which ended the myth of Ottoman naval invincibility.
Through the centuries Moreska vanished from the Mediterranean and nowadays is only to be find in Korcula, where it is performed for over 400 yrs.
Morkeska Sword Dance was added to the UNESCO Intangible Cultural Heritage List in 2014.
CroRace "Tour of Croatia" |
1000 km Bike Race
6 days in October
The CroRace or as locals call it the Tour de Croatia, this event covers 1000 kilometers across all of Croatia, including continental, coastal, Istria and islands.  It is great fun to watch- all the towns come out for it and have music,streetfood and events surrounding the cyclists passing through.
Teams from all over the world compete in this highly competitive event –  you can follow your team across all 6 stages or focus on one area. For cyclists, we have guided cycles along each stage.
OSIJEK – LIPIK
SLUNJ – ZADAR
OKRUG – MAKARSKA
STARIGRAD – PAKLENICA – CRIKVENICA
RABAC – PLATAK
SVETA NEDELJA – ZAGREB
The race is listed at the UCI World Championship calendar, 2.1 category and welcomes some of  the best cyclists and teams in the world.
Medieval Festival | Rab island
25-27 July
Step back in time to the middle ages with the entire town of the walled medieval town of Rab as it commemorates the Middle Ages every year with a fun and entertaining festival since 1364, when the residents celebrated this event for the first time in honor of King Louis the Great, who liberated Rab from the Venetian rulers.
The opening day of the festivities start on the day of St. James (July 25) with a ceremonial flags marching to the town loggia accompanied by drummers and townspeople – judges, City Council and honored guests are accompanied by historically dressed fishermen, merchants, craftsmen and artists. Stalls and exhibits strewn along the fortress walls, squares and promenade display medieval trades and crafts – embroidery, carpentry, wine and bread, basketry and coins. Churches, squares and backstreets are host to medieval music, dance and artistic performances. The highlight of the festival is the medieval joust and crossbow competition.
Korkyra Baroque Festival | Korcula Island
September
The Korkyra Baroque Festival is a local cultural event established in 2012 for local music and cultural heritage. The concerts in iconic venues in and around the town of Korcula, as well as new regional locations: the Island of Vrnik, Orebic, Ston, Trpanj, Vela Luka, Blato, Pupnat, Smokvica, Hvar, Ploce and Dubrovnik, create a unique Baroque magic.
The festival showcase soloists and ensembles from Croatia and abroad, performing everything from their own original pieces to interpretations of traditional works. This festival also celebrates the island of Korcula and its culture.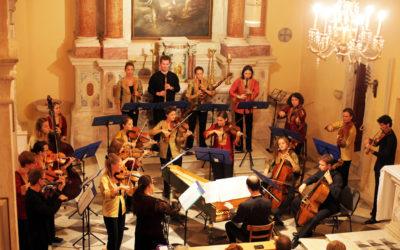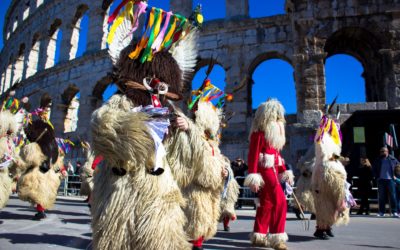 Carnival | Istria & Rijeka
Lent | Late January to early March
All of Istria celebrates Carnival from the tiniest village to the ancient seaside & hill towns of Pula, Pazine, Rovinj, Motovun. Daily processions, costumes, street food,  traditional music & folk festivals make this a colorful and joyful time throughout the region.
It's a great coming-together of locals from across the area plus visitors, mingling in the city centres to try out seasonal street food and Istria delicacies, be entertained by musicians and enjoy the inter-generational charm of the accompanying parades.
Pula Film Festival | Pula, Istria
July or August
The Pula Film Festival is an annual Croatian film festival, established in 1954 held at the magical Pula Roman amphitheater. The festival is the oldest Croatian film festival and is usually held in the summer. Established even before Cannes, the city's historic Roman amphitheatre transforms into an open-air cinema and venue for opening night and the award ceremonies. The agenda includes Croatian and international films as well as a student programme, evening concerts and audience interaction with well known personalities from the world of film.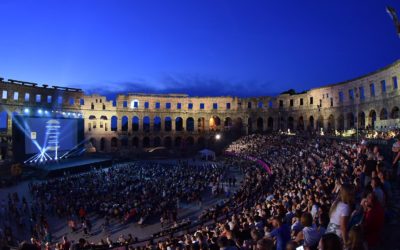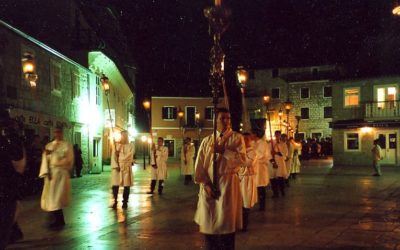 Easter Procession | Hvar Island
Easter (March or April)
After mass on Maundy Thursday (22:00) before the holiday of Easter, a procession sets out from 6 villages – Jelsa, Pitve, Vrisnik, Svirce, Vrbanj and Vrboska – led by a barefoot crossbearer, who carries a wooden cross.
The procession follows a 22km circular route through the other five villages and churches throughout the night. It is considered a great honor to carry the cross, and waiting times can be as long as 20 years, with some parents signing up their newborn children soon after birth.
Having visited the churches in each village for a period of reflection and prayer en route, the procession arrives back at its point of origin about 07:00. The finale is particularly impressive in Jelsa, where the main square is full of locals and tourists (who are politely reminded that this is a religious event, and clapping is not welcome) waiting to greet the tired entourage.
Konavle Folklore Performances | Konavle
Summer Months
The Folklore Society Cilipi was established in 1954 to celebrate traditional Konavle regional costumes, folk dancing and song. Today they produce events and performances throughout Konavle and Dubrovnik. The most famous and oldest dance of the Dubrovnik region, Lindo, is performed with the traditional musical instrument, lijerica, a pear-shaped, three-stringed instrument played with a bow.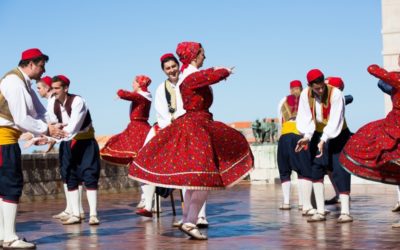 Summer Festival | Ljubljana
July - August - September
Enjoy the The Ljubljana Festival in the evening, celebrating summer with artistic and cultural events throughout Ljubljana. The festival features concert, opera, and ballet events by internationally renowned artists in music and performing arts.
The main venue of the Ljubljana Festival is the picturesque Križanke Summer Theatre, built in the 13th century and rebuilt to its present form by the famous architect Jože Plečnik.
The festival was started with a broad cultural goal:
"Out of love for beloved Ljubljana, a beautiful thought was born: to inspire the Slovenian capital with summer events, cultural and artistic performances that will take its name across the European cultural community; to transform it into a major festival event, venue, and an epicentre of culture in general. A soothing, sparkling dream came from who knows where: Ljubljana was to become Salzburg, Verona, Bayreuth, Edinburgh – in the southeast of Europe."
Today it is a lively festival with local and world reknown performers in magical Ljubljana.
Klapa Festival | Omis
First 2 weeks of July
Croatian singing culture is as old as the Dalmatian stone. Traditional Klapa celebrates Dalmatian family, women, sun, coast and islands.  The soulful songs of  the a cappella Klapa groups evoke memories of the past and traditional Dalmatian life, passing on cultural memories through the generations.
The world Klapa means "group of friends".  Every village has its Klapa groups, who often burst into song anywhere – on the ferries, in the streets, at a restaurant or cafe. The Klapa Festival in Omis brings Klapa groups from across Croatian to compete and celebrate the Klapa tradition.