New restaurants are popping up all over Croatia. Our guides, skppers and local Experience Makers are constantly exploring new ideas for you to try.
So experiment and enjoy traditional Dalmatian cuisine, Istrian & Continental delectables at family konobas, seaside trattorias and the latest trendy restaurants.  Taste the fusion created with local ingredients and the panache of a new wave of homegrown creative and internationally trained chefs.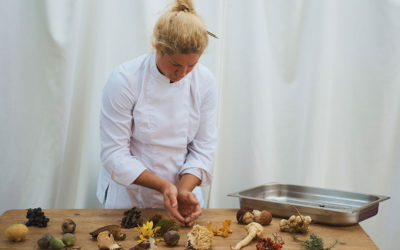 Slovenia - Ljubljana
Slovenian cuisine is a northern cuisine with Italian and Austrian influences. As with Croatia, it is experiencing a cullinary renaissance, fusing natural ingredients & tradition recipes with nouveau style.
Restoran Strelec – great location at the castle, beautiful views, good Slovenian cuisine & wine list. The Chef's Menu is a great way to sample Slovenian cuisine
Hisa Franko in the Soca Valley – renown for its chef, Ana Ros, recently named the World's Best Female Chef (2017) by the World's 50 Best Restaurants. Ana is creating Nouveau Slovenian cuisine with a flare, yet rooted in Slovenian tradition.
Restoran Julija – authentic and cozy restaurant in the heart of the old town with outdoor tables.
Cubo Restaurant – Just outside the old town, Cubo has a good, authentic menu and traditional dishes with a twist of nouveau cuisine – also well known for its desserts. There is also a chef's menu with 5 courses for 2 people. The wine list has a very good selection of Slovenian wines.
Marly & Me – small, cozy, friendly neighborhood restaurant in the heart of the old town with sidewalk tables | very good food
Restavracija JB – well known up and coming restaurant with nouveau cuisine
Altroke Restaurant – fresh Mediterranean-Slovenian cuisine with local atmosphere, indoor & outdoor tables
Restaurant Compa – traditional Slovenian Konoba & food with flare
Zagreb
Zagreb's restaurant scene is fluid, with new and interesting restaurants popping up alongside long standing establishments, which have endured the decades with traditional fare and ambiance. Pop-up restaurants are also becoming popular. Zagreb cuisine is Northeastern European with notable Viennese and Hungarian influences.
Dubravkin Put – Located in an area rich in the unique history of Zagreb and the Austro-Hungarian influence. One of our favorites for the wine & nouveau Zagreb cuisine – a nice blend of traditional and new cuisine.
Barbieri's – The dishes are small with plenty of Adriatic fish-dishes, locally sourced meat and great cheese and tapas. The interiors are modern, but comfortable and the great location makes it one of our favorites.
Le Bistro at the Esplanade Hotel – is an icon of Zagreb, not only for guests of the Esplanade by for local business people and politicians. The head chef Ana Grgić adds a new flair to the long standing Bistro rations like Wiener Schnitzel and local cult dish Štrukli.
Vinodol
Noel Restaurant – fashionable restaurant with trendy, internationally inspired furnishings, where guests can enjoy exciting, colourful cuisine prepared by the owner-chef. The delicious modern and creative dishes served here are accompanied by a selection of Croatian, French and Italian wines carefully chosen by the sommelier-partner.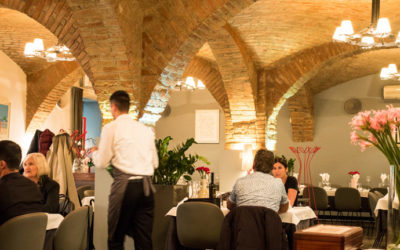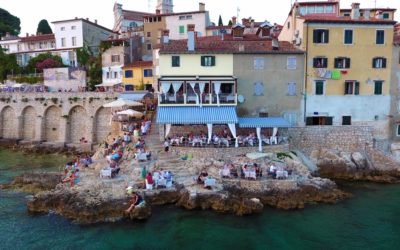 Istria
Istrian cuisine is a delicate balance between Italian, Mediterranean, native Istrian and continental Croatian influences. Its unique location and terrain contribute to its distinct flavors and unique dishes – local truffles and olive oils are always on the menu.   Fresh fish from the coast, native herbs from the interior, world class wines from throughout the region, fresh citrus, native olive oils, farm fresh produce from local markets and wild game such as boar and duck give the new generation of chefs plenty of ingredients to create traditional dishes with a creative twist.
Among the many restaurants & family "konobas" scattered along the Istrian hills and seaside, the following restaurants are a good place to begin your exploration:
La Puntulina Restaurant & Wine Bar – one of our favorites in Croatia. Inspired by the surroundings and culture of Rovinj, La Puntulina, showcases the spirit of the Italian influences in the breathtaking coast overlooking the Adriatic Sea.
Meneghetti Wine Estate near Bale – renovated classic istrian "ranch" famous for its organic wines with indigenous and international varietals. One of our favorite experiences & wines – for the ambiance, the great food and the consistent quality.
Mondo Restaurant in Motovun – Michelin Star restaurant with pretty outdoor terrace
Roxanich Wine estate in Motovun – overlooking the spectacular scenery of the Mirna river valley. Owner Mladen is a leader in the Croatian wine renaissance, with a passion for making organic wines and applying his international knowledge to fine wine making in the most beautiful wine region in Croatia.
Draga di Lovrana in Lovran – The chef prioritises locally sourced produce in recipes which are balanced and of the highest quality, creating modern, imaginative and highly memorable dishes. Breathtaking location, with views from the dining room and outdoor terrace, plus a choice of attractive guestrooms.
Roko in Opatija
San Rocco in Brtonigla
Stari Podrum in Momjan
Sv. Nikola in Porec – menu is focused on traditional Croatian and Italian dishes, with plenty of fresh fish as well as meat.
Zigante in Livade – most famous for its truffles. Try a seasonal offering of Mediterranean foods inspired by this most definitive of Istrian ingredient in pastas, seafood dishes, local meats and even classic steaks.
Gostionica Tartuf in Livade – its local atmosphere, garden terrace and excellent food is a great experience for those who want a more low key, traditional experience.
Lanterna- Sv. Andrija island in front of Rovinj
Giannino Restaurant – known for its local seafood and a well deserved reputation for some of the best fish dishes in Istria.
Maestral Yacht Club
Mediterraneo & Wine Vault in Rovinj in the Monte Mulini Resort
Tutto Bene Bistro – Family owned restaurant with a modern twist to Croatian cuisine.
Monte Restaurant – The cool, contemporary style of this softly lit, romantic restaurant comes as a contrast to the old town, in whose enchanting lanes it is hidden. Creative and occasionally theatrical, the cooking is also somewhat of a surprise using modern techniques to create beautifully presented, flavour-filled dishes.
Split
Split is a hub of restaurants & cafes with new and traditional cuisine. We try to keep up, but you can't lose by popping in to any that looking interesting, you are unlikely to be disappointed.
Some of our "tried and true" suggestions are:
In the Old Town
Uje Oil Bar – restaurant, tapas bar & wine bar – also has good souvenirs (olive wood, olive oil & Dalmatian specialties) – good wine menu & the tapas bar is a real treat.
Zoi – small restaurant with nouveau Balkan cuisine on the waterfront and south wall of palace and emperors chambers – it doesn't get much more authentic Split.
Bokeria Kitchen & Wine Bar – one of the most trendy with very good wine list.
Brasserie on 7 – on the promenade – great location, healthy cuisine, good wine list – we recommend the breakfast & pastry – very good service.
Restoran Bajamonti – in my favorite square (Prokurative | Republic) – breakfast time is nice & quiet, lunch or dinner offers great people watching and view of the sparkling harbor.
Paradox wine & cheese bar – great place to try Dalmatian wines with good "tapas".
Zinfandel food & Wine bar- one of the first Nouveau Cuisine restaurants in Split with very good wine menu.
Mazzgoon – very good fresh and imaginative cuisine.
F Marine – on the west end of the promenade, great location very good sea food.
Villa Spiza – tiny local "konoba" with athentic classic Dalmatian fare – great place for lunch and traditional Split hospitality.
Olive Tree – on the promenade – good breakfast, simple cuisine and great location to while away the hours people watching.
Sperun – traditional Split restaurant with good fish, small bites – try the Bakalar for a really traditional dish – off the beaten path in Varos neighborhood
Fig Split – within the Palace – local cuisine, yummy, fresh, organic, good vegetarian choices.
Bota Sare – specialized take away in fresh oysters & mussels from the famous oyster beds of Mali Ston, bluefin tuna & shrimp in a pretty setting.
Outside The Old Town
Dvor – outside town near Bacvice Beach, with a pretty and quiet terrace overlooking the sea and nearby islands. Great wine list by the glass.
Ma Toni – near Bacvice Beach, about a 15 minute walk from the old town, it is worth the walk with fresh seasonal menu, large wine list and cozy, traditional ambiance.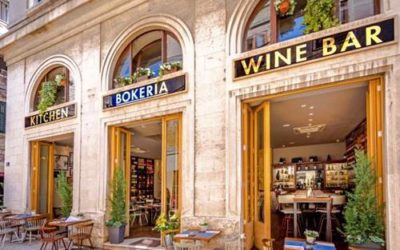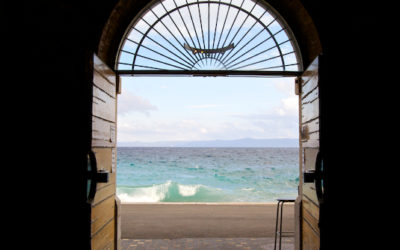 Select Dalmatian
Dalmatia is experiencing a culinary renaissance, with new and creative restaurants popping up all the time – from tiny seaside konobas to Michelin star experiences, here's your chance to try them all.
Some of our suggestions are:
Pelegrini restaurant in historic Sibenik – a Michelin star experience in ancient setting
Konoba Opat – seaside family restaurant in the stunning Kornati islands
Restoran Festa on Zut island – fresh and traditional Dalmatian cuisine and excellent wine list
Restaurant Kastel in Zadar – in 13th century castle, creative Dalmatian cuisine specializing in homemade cheeses, fresh ingredients, breads & pastas
Fosa Restaurant in Zadar – on the sea with fresh seagood and pretty setting
Zori – Palmizana Island
Family Meneghello Restaurant on Palmizana
Ringo's in a quiet bay on the northwest side of Hvar island facing Brac island
Restoran Pipo on the north side of Brac in Luka Bay between Povlje & Pucisca
Sismis Restaurant in Sesula Bay, not far from Maslinica on the South side of Solta
Hvar Island
Hvar has a tradition of emerging cuisine, best represented in Hvar Town, where you will find lovely restaurants in the narrow back streets, especially on the north side of the main square. Across the island in the villages and towns you will find family restaurants with fresh local ingredients and local specialties.
Restaurants in Hvar Town
Giaxa Restaurant – Traditional restaurants with nouveau cuisine twist – great fresh fish & very good wine list, located in a 15 century palace.
Dalmatino – Family owned fish and steak house with local & traditional Dalmatian fare. Great family restaurant.
Passarola Restaurant in Hvar for the food & atmosphere
Paradies Garden restaurant in Hvar for the food
Grande Luna Restaurant – Top-floor dining room with open roof. The nouveau cuisine combines classic Mediterranean dishes with local ingredients, redefining classic Dalmatian cuisine.
Lola Street Food & Bar – Fun atmosphere, good food – eat outside in the alleyway just off the harbor. Good for vegetarians too.
Restaurants in Stari Grad- Hvar
Bistro Kod Damir in Stari Grad for the food & authenticity
Za Pod Zub – great local deli to shop for a nice picnic. It literally means "For Under the Tooth"
Porto Culinarium – very nice salads, pastas, homemade breads, fresh organic food – also vegan dishes.
Antika Family Konoba – typical traditional Hvar konoba in one of the side streets – nice to sit outside, literally in the street.
Restaurants on Hvar Island
Restaurant Bilo Idro on the sea in Sveta Nedjlja for the location
Me and Mrs. Jones in Jelsa for the food and location right on the harbor
Palmizana Resort – Totos Beach Restaurant, Laganini Beach Restaurant or Zori's (a little more upscale)
Fig Bar Cafe – Casual lounge & restaurant with creative dishes and drinks – they have restaurants in Hvar Town and one in Stari Grad.
Konoba Lambik – a family style, farm-to table restaurant – authentic & pretty in Milna surrounded by olive trees.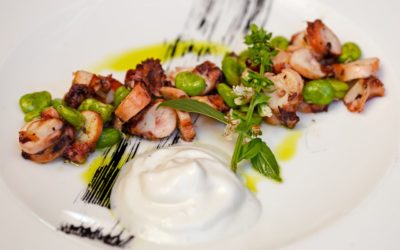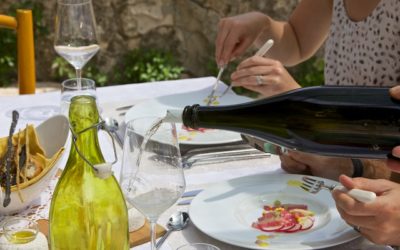 Brac Island
Brac is known for its fresh fish, herbs & agrotourism (farm-to-table). Our favorites:
The Fish Restaurant – in Bol – good food, great loction overlooking a lovely beach
Bokuncin Restaurant in Sutivan – on the harbor, tiny restaurant, authentic local cuisine, very good.
Ziza Restaurant – in the middle of Brac – good farm-to-table restaurant – pretty and cool terrace with distant view to the mainland.
Senjkovic Tasting & Tapas – one of the best experiences in Croatia
Kastil Gospodnetic Konoba (the Castle) – in the tiny preserved village of Dol. The restaurant is famous for its stunning location, hospitality, historic building, farm-to-table traditional dishes & desserts and family wine.
VinoToka Restaurant – Supetar – good food & fresh fish, good wine list.  Fun sitting outside in the tiny cobbled street.
Osam Restuarant in Supetar – pretty patio, very good food, good wine list, view of the sea across to Split
Kopacina Restaurant in Donje Humac – the quintessential Brac restaurant serving traditional Brac lamb cooked in a variety of styles (including whole on the spit). Also have great grilled fish & beef. The french fries are fabulous.
Lemon Garden Restaurant in Sutivan – on the harbor in pretty setting, very good Nouveau Dalmatian cuisine, good wine list.
Paluta Restaurant in Supetar – on the harbor, good fish, great location.
Konoba Turanj near Supetar – farm-to-table restaurant. Great peka, Brac lamb and fresh organic vegetables from the owner's farm, lovely set among the owner's vineyard.
Teresa Ciccio Restaurant is on the sea outside Bol near Mrvica.  Either pull up by boat – you will see a large sign – or follow the coastal road toward Mrvica from Bol and keep on going until you see a sign for the restaurant. You will not be disappointed at this family restaurant overlooking the sea.
Punta Restaurant in Supetar.  Right on the water in the Supetras Hotels Resort, this is a great spot, good food and friendly service
Lukin Konoba in Supetar.  On the harbor serves good traditional fare with tables on the harbor.
Grill Garden Restaurant, in the hills near Mirca, serves fresh grilled specialties and very nice salads.
Restaurants in Milna Harbor (all are child/family friendly)
Palma Restaurant | very good fish and meat
Illyrian Resort | great location, terrace overlooking the sea where kids can swim. Pool and pool table, so a good family restaurant.
Sidro | new restaurant with good food, cocktails and nice outdoor seating on the harbor
Navigare  in ACI marina  | Great location in the Marina, good food
NCM Marina | Casual atmosphere on the private marina, good fish
Gajeta | Great location in the middle of town on the harbor – small so need to have reservations
Galicia | In the center of town, reasonable prices and tradtional food. Good place for kids.
Fontana | oldest restaurant in Milna – traditional family cooking. In the middle of the village on the harbor.
Slika | best pizza in town. Also good salads – easy and fun – on the harbor
Kapetanova | Farm to table family "Konoba" – about 1 km outside Milna in the olive orchard with outdoor kitchen.  Authentic experience and good traditional food.
There are lots of other restaurants to choose from all over the island. So ask for recommendations, depending on how far you would like to go or where your travels take you.
Kornati Islands & Middle Dalmatia
The Kornati islands are full of restaurants tucked away in quiet bays, everything from small family Konobas to Micheline star experiences.
Zakan – in Zakan Bay, the chef at this remote restaurant trained at Le Cordon Bleu.  He  merges traditional Dalmatian fresh fish & ingredients with French panache to create his own style and yummy dishes.  We recommend their tasting menu.
Festa – in a small inlet on the island of Žut rests on the sea among hundred year old olive trees.  A great chance to experience the old Dalmatian "Konoba" tradition and fare.
Opat – in a quiet bay with only a few moorings, Opat is one of the best restaurants on the Adriatic. Owned by the same family since the 19th century, it was started by a local fisherman, who began cooking for friends and the occasional passing boat. They served their own wine and fare. Over the years, the family tradition continued and the local fare evolved until today when the chef/owner is creating inventive dishes, fusing traditional, fresh & local ingredients with nouveau Dalmatian cuisine.
Bibich Winery –  one of the best known in Dalmatia and is producing some of the best wines in the central Dalmatian coast region. Their wine pairing dinner is excellent with charming host and wine tour. Anthony Bourdain's No Reservations featured Bibich Winery in show's Croatian Coast episode. Chef Vesna Bibić makes creative dishes, using molecular cuisine techniques to reconstruct local ingredients.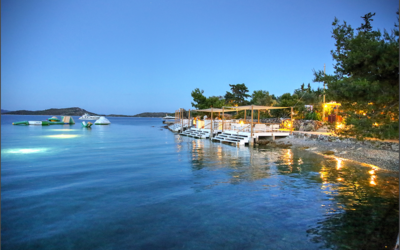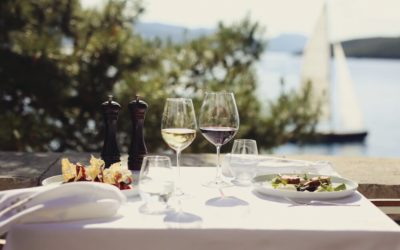 Korcula Island + Peljesac Peninsual
Korcula town has many small traditional konobas to try in the meandering old town streets. And you can't go wrong at one of the many restaurants a long the fortress wall with lovely outdoor terraces and views. Our favorites:
LD Palace for the food, wine & location – one of the best restaurants in Croatia
Filippi in Korcula Old Town for the food & location
Kanavelic Restaurant – away from it all, pretty courtyard
Aterina – pretty courtyard, known for its fresh ingredients, fish and inventive cuisine – a good example of the renaissance in Dalmatian cuisine
Lole – intimate Konoba in a tiny side street off the fortress "promenade" – creative and authentic Korcula tapas, famous Korcula hospitality
Bota Sare – the place to try local Oysters & Mussels in the bay of Mali Ston. The best time of year for Oysters in April/May. Although the largest of the restaurants around the oyster farms, and a bit touristy, this family run restaurant has great seafood, local wine and charming hosts.
Gastro Mare – in tiny Kobas bay, possibly the bet fresh fish restaurant in Croatia – a challenge to get there, but worth the journey.
Korta Katarina Winery – a beautiful winery and setting and of course great wines.
Dubrovnik Area
There are many good restaurants in Dubrovnik Old Town, along the "riviera" and nearby Lapad & Cavtat. Dining in Dubrovnik itself is as much about the local style, stunning settings & views as it is about the local specialties and wines. We recommend not to miss at least one of the following restaurants:
Proto Fish Restaurant – go for the fish and wine list. Small restaurant with very nice upper terrace – one of the oldest restaurants in the city.
Nautika – on the wall overlooking the sea. You won't see this view anywhere else in the world.
Restaurant 360 – on the wall overlooking the old harbor – a popular restaurant, a little more touristy, but for a reason – unbeatable view and Michelin star.
Levanat  – also on the wall. Traditional Dalmatian and Dubrovnik cuisine in Nouveau Dalmatian style.
Dubravka 1836 – a little off the beaten track, more casual, lovely sea view & Mediterranean cuisine
Restaurant Dubrovnik | In the heart of the old town with rooftop terrace
Above 5 Rooftop – a boutique restaurant in truly Dubrovnik/Dalmatian style with intimate feel and breathtaking views over the rooftops of the old town. Pretty, unique location.
Nishta – a tny vegetarian restaurant (seats about 10 people) offers a good respite from meat & fish. It is tucked away in one of the narrow alleyways leading off the main street with outdoor terrace.
Pantarul – seasonal Mediterranean cuisine known for its exceptional homemade bread, pasta and risotto.
Konoba Dalmatina – a traditional Konoba located in an old stone house with Dalmatian menu – fish & fowl mostly with good veggies and local style. Typical local style and good food.
Tavulin Wine & Art Bar with Jazz music, local artwork, authentic local food, Croatian tapas and homemade cakes. The family wine is good and the wine list rich in good Croatian wines. Appealing to those who appreciate the off-beat and willing to take a risk.
Pink Shrimp Street Food – just off the Stradun, yummy seafood, casual atmosphere and of course great Shrimp.
Marco Polo – a small konoba with a big heart – traditional dishes/nouveau Dalmatian cuisine with diverse Croatian wine list. Intimate and friendly and off the beaten path in a small side street just off the Stradun.
Seosko Domacinstvo Klaic is a farm-to-table family konoba in Konavle – great traditional food, great company, great authentic experience.
Bota Sare in the Old Town has the best fresh oysters straight from Mali Ston, bluefin tuna, saber, gof and shrimp are the foundation of unusually light & fresh cuisine.
Stara Loza  in the Old Town – beautiful rooftop terrace – a great place for a sunset or late evening meal with good selection of wines and homemade gnocchis and pastas (at boutique Prijeko Palace Hotel).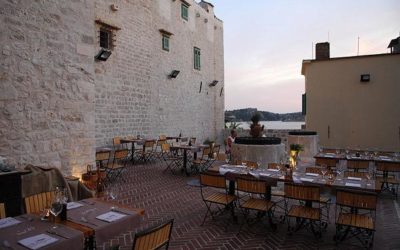 Michelin Star & Mentions
Michelin ONE STAR
Monte Restaurant in Rovinj
Pelegrini Restaurant in Sibenik
360 Restaurant in Dubrovnik
Noel in Zagreb
Draga di Lovrana in Lovran
Boskinac in Novalja
LD Palace in Korcula
Michelin MENTIONS
Istria
Marina in Novigrad
Damir & Ornella in Novigrad
Konoba Čok in Novigrad
Konoba Buščina in Umag
Badi in Umag
Meneghetti Wine Estate in Bale
Pergola in Zambratija
San Rocco in Brtonigla
Konoba Morgan in Brtonigla
Sv. Nikola in Poreč
Wine Vault in Rovinj
Zigante in Livade
Boškinac in Novalja
Draga di Lovrana in Lovran
Batelina  in Banjol
Alla Beccaccia in Valbandon
Navis in Opatija
Villa Ariston in Opatija
Modern Cuisine in Lovran
Novalja in Lovran
Konoba Buscina in Umag
Marina in Novigrad
Badi in Lovrecica
Konoba Cok in Novigrad
Alla Beccaccia in Valbandon
Damir & Ornella in Novigrad
Zagreb & Area
Apetit City
Zinfandel's
Takenoko
Mano Steak House
Dubravkin put
Boban
Mundoaka Bistro
Apetit Agava
Gallo
Le Bistro Esplanade
Noel
Pod Zidom
Time
Bestija
Tac
Bistro Apetit by Marin Redic
Tekka
Mon Ami
Vuglec Breg
Zlatne Gorice (Varazdin Breg)
Bedem (Varazdin)
Mala Hiza
Dubrovnik
Bistro Tavulin
Dubrovnik
Kopun
Nautika
Vapor
Stara Loza
Pantarul
Proto
Above 5
Zuzori
Pjerin
Split
Dvor
Kadena
Zrno Soli
Zoi
Additional
Kaštel (Zadar)
Foša(Zadar)
Konoba Boba (Murter)
Filippi (Korčula)
Apolon (Starigrad)
Jeny (Tučepi)
Muzej Okusa (Osijek)
Club Waldinger (Osijek)
Mala Hiža (Mačkovec)