Gateway to the Dalmatian islands - accessible & unspoiled
"They came for a moment and stayed for a lifetime " . . . so the saying goes.   They say Brac is bewitched – like the island of sirens,  those that come never leave.
Once you arrive, you will understand the allure.  Dotted with age-old villages, Brac is the gateway to Dalmatia – timeless and unspoiled.  Brac is where yachts come and go all year around . . . where sailing traditions are a lifestyle . . . where olives are still pressed in the villages . . . where grapes are still harvested with family and friends . . . where stone is still crafted by hand . . . where life still continues in harmony with nature . . . where sun and sea still order daily life.
"Olive trees soften the surroundings and contribute to the region's storied cuisine, including fresh fish, local cheeses and Plavac wine. Life moves at the right speed, guided by an old-world ethos."– – – Islands Magazine 2009
Both casual and avid sailors who have plied world sailing destinations agree that sailing the Dalmatian islands is among the best sailing in the world.   You'll find well equipped, clean & full service marinas among all the islands.  
For the more adventurous, hidden bays for anchoring and private moorings are never far away.   Island restaurants can be found tucked away and easily accessible with great fresh food, family taverns & gourmet meals.
Voted second in the "World's Best Islands to Live On" by Islands Magazine, Brac's countless protected bays, sailing, pristine turquoise waters , island lifestyle, hiking, biking, kayaking, climbing water sports and perfect weather make it an idyllic sailing or villa holiday experience. Brac also has the widest choice of island Villas, from pampered luxury to barefoot beach to island casual.
Duboka Bay
Facing south on the southwest side of Brac island, Duboka Bay is sheltered enough to swim and moor your boat, close enough to Hvar and Solta islands for a day's boating, within walking distance to Milna harbor. 
 
Duboka Bay is still a traditional holiday getaway – quiet, natural and private.
Duboka Bay Villas ™ provides the environment – your own swimming platforms, private kayaks, fantastic swimming, mooring for your boat or yacht, carefully selected villas. You provide the inclination – relax in the sun, paddle to a Lucice Bay restaurant for lunch, take a day sail to nearby islands.
Experience traditional Dalmatian holiday charm in this unique setting . . . or absorb harbor life in nearby Milna – watch the international yachts and local fishing boats come and go at an open-air cafe.  Daily speed boat goes from Split to Milna for Day Trips to Hvar, Korcula, Mljet & Dubrovnik.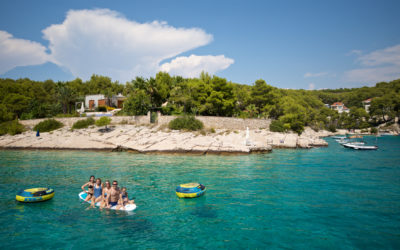 Milna Harbor is a pretty 2km walk from the Duboka Bay. In Milna you will find boat rentals, cafes, restaurants and shops. Local olive oil and wine tastings are a must in the village.  Visit the local vegetable & fruit market, bakeries and buy fresh fish directly off the fishing boats in the morning.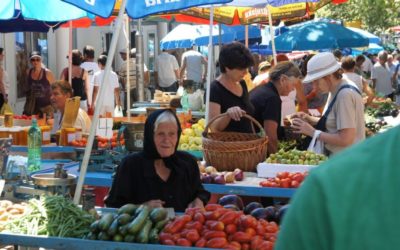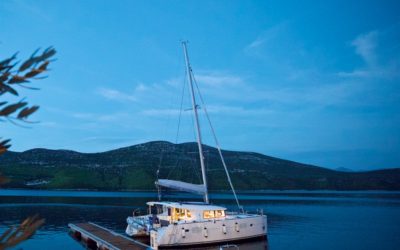 Unspoiled villages
Unspoiled villages are scattered across the island, where traditional life carries on with stone carving, fishing, olive, citrus and grape harvests. The cobbled streets of the villages were designed to be wide enough for a donkey with baskets on either side. Dramatic bell towers, picturesque chapels and headstones carved by local sculptors adorn cemeteries in almost every village.
Each village has a unique character and, in fact, a unique dialect. Villagers claim they cannot understand people from other villages (which may be only a few kilometers away). Not surprising if you consider that the old men still travel by donkey to the fields and in the early morning you can catch them on the roads, usually carrying olive branches.  A few kilometers by donkey is a long way!
Excellent fresh fish, family olive oil, traditional cuisine, home produced wine and local "grappa" can still be found in every village. The protected harbor of Milna on the southwest side of the island, is the new gathering place where international yachts linger for a taste of traditional village life and local fishermen sell their daily catch quaiside.
Launch point to the Split Archipelago
Brac is the most accessible and best connected of the Dalmatian islands, with ferries and speed boats and taxi boats running frequently back and forth between various points on Brac, the mainland, Dubrovnik, Hvar, Korcula, Vis and other islands.  Milna Harbor is the home to private & charter yachts from around the world and launch point to sailing the Split archipelago all the way to Dubrovnik.
Easy connections from Brac to:
Split
Korcula
Solta
Hvar
Mljet
Dubrovnik
Makarska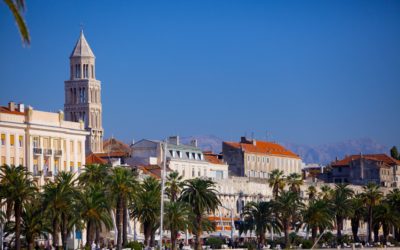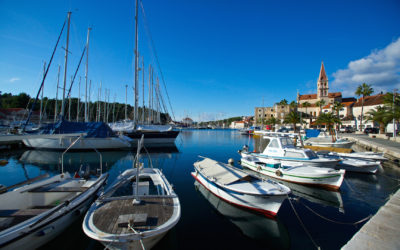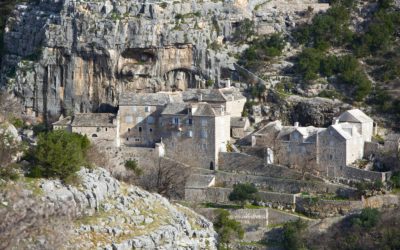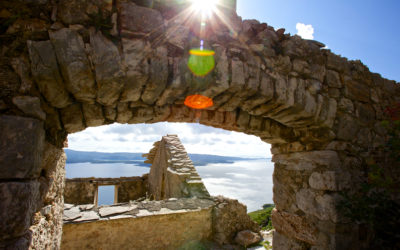 Rich Culture & History
Roman ruins, famous stone work, sculpture, bell towers, dry walls and influences of invaders from across the centuries are evident all over the island:
Olive oil museum & Roman ruins in Skrip, the oldest and smallest village on the island
Stone mason school, sculptors' studios & miniature sculptor, Josip Radic
Donje Humac – village of sculptors & artists
Dragon's Cave & 15th century ruin
16th Century Blaca Monestary, once the learning and economic center of the Split Archipelago
Island Gold
Olive oil has been a valuable commodity throughout the ages to barter, signify wealth, heal all manner of ailments and a secret to long life. Olive Oil production on the islands goes back over 2000 years.
Islanders still offer olive oil in trade and as a valuable gift on special occasions.
You'll see the entire process of olive oil production past and future on Brac island. Meet the first family to produce organic Olive Oil, stroll through orchards, see ancient and modern methods at the still operating village presses and new "Uljarias". Include a visit and lunch with the creators of the Brac Olive Oil museum – an age old Brac family. The musuem features one of the oldest olive oil presses (donkey driven) on the islands.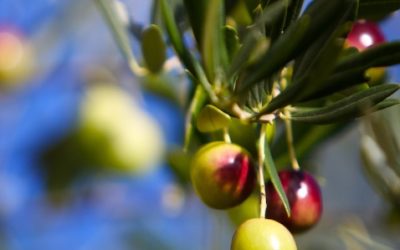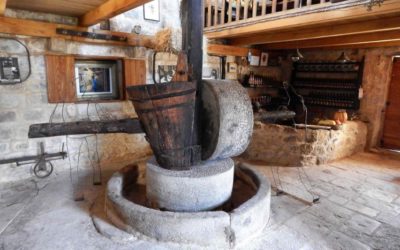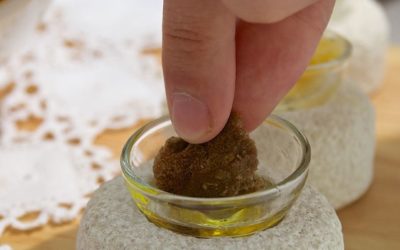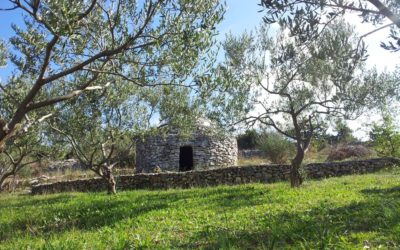 The Stone Island
From the stone quarries to the stone Shepard huts, famous bell towers and intricate carvings of miniaturist Josip Radic, stone permeates Brac island.  Following the thread of the stone takes you across the entire island, through the villages and olive orchards, ancient ruins and vineyards.
Brac stone has been used all over the world from Diocletian's palace to the White House in Washington DC to renaissance buildings in Vienna and other world capitals.
Not to miss:
Rock quarries
Sculptors studios and Stone Mason School
Bell towers of brac (there are 14)
Famous miniatures of St. Peters & the Bell Towers of Brac
Ancient stone ruins
Stone shepards huts and Dry stone walls
Restaurants & Winery Recommendations
Brac is known for its fresh fish, herbs & agrotourism (farm-to-table) and specialty island desserts. Some of our favorites:
The Fish Restaurant – in Bol | Good food, great loction overlooking a lovely beach
Bokuncin Restaurant in Sutivan | On the harbor, tiny restaurant, authentic local cuisine, very good.
Ziza Restaurant – in the middle of Brac | Good farm-to-table restaurant – pretty and cool terrace with distant view to the mainland.
Senjkovic Tasting & Tapas | One of the best experiences in Croatia
Kastil Gospodnetic Konoba (the Castle) – in the tiny preserved village of Dol | Famous for its stunning location, hospitality, historic building, farm-to-table traditional dishes & desserts and family wine.
For more restaurants and wineries on Brac, visit: Restaurant & Winery Recommendations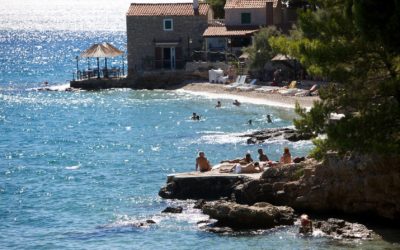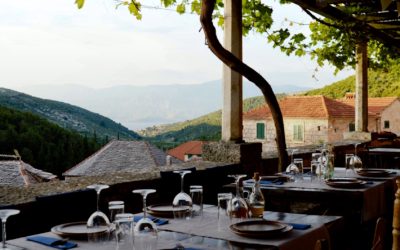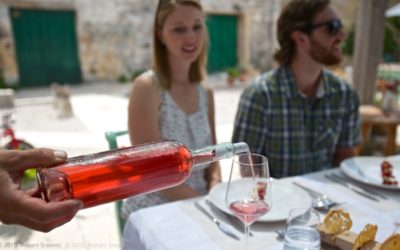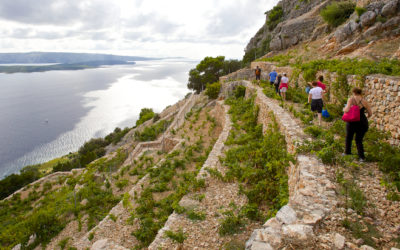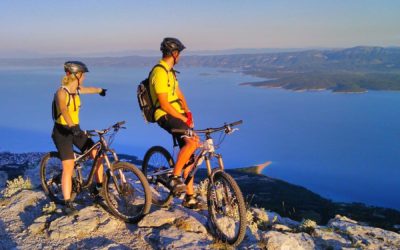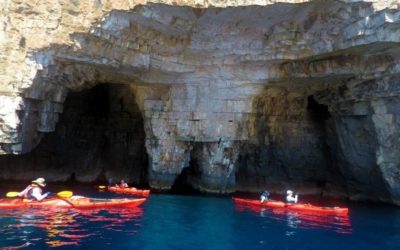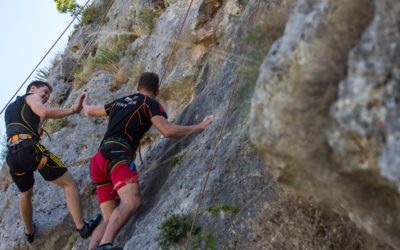 Hiking | Biking | Kayaking | Climbing
From novice to family to adventure sports, Brac is a great destination. Hike through ancient ruins and medieval Blaca monastery, bike the backroads that criss cross the island, kayak to hidden bays or challenge yourself with any level of climbing on an island famous for its rock.
Beautiful Beaches
In addition to the famous Golden Horn Beach, the Brac coastline is dotted with endless hidden coves, pebbly beaches and easily accessible shoreline – perfect for exploring by boat or by local roads.